Yesterdays birthday celebration was absolutely fantastic!!
For many months we have been contributing stitched sheep for a quilt for Gina but unbeknown to me one was going round for me too. Mine was based on mainly Teresa Wentzler designs but the most special part was that the lady herself designed and stitched a piece for it. It was one of her designs that she then adapted but its still completely unique and she signed it which blew me away. Here is a picture of the quilt: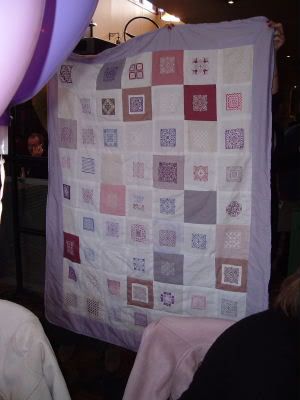 It is so gorgeous and I can't even begin to describe how touched I am and what I feel for all the people who got involved. I don't think words are ever enough here but I can't stop looking at it and just love it so much.
Its on my bed at the moment and I am constantly admiring it and stroking it-oh and the ginger one is banned from going anywhere near it.
This week is going to be very busy as fingers crossed I have my flu jab tomorrow afternoon. Tuesday I am also fingers crossed having my haor cut and coloured-this was cancelled due to staff illness on Thursday. Wednesday is my birthday and I am taking cakes into dialysis which is a kind of tradition if you are dialysing on your birthday and if I feel ok we will go out for a really nice family meal that evening. Then Thursday is going to be a study day and Friday I am off to Cornwall for the weekend to see my friend Jane. Any other spare time where I am not sleeping will be study time as I have half a unit to finish and a couple of assignments to get in by the 25th-and not alot of time lol. Which also reminds me that sometime this week I will get my first marked assignment back too-eeeekkkk.