I finished this small Bent Creek design called The little black kitty this afternoon: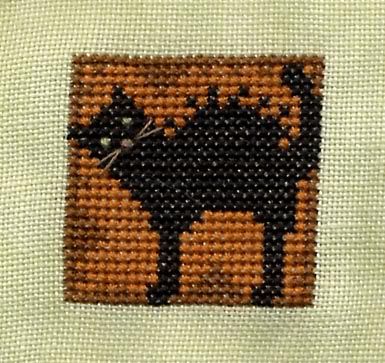 It is stitched on Silkweavers Parkland linen and I have now entered it into their competition. This is the first year I have been together enough to enter and now have two things in-both of them small. I even kept one in its original bag waiting for the competition to start that was finished almost a year ago, so now its fingers crossed.
Today I have gone down with a cold and even have a temperature of 38 ish. This is typical as I am due to have my flu jab tomorrow. We tried to cancel but when they said all sessions are full and they can't give any idea when the next lot will be we are hanging on and hoping for a miracle cure lol.
I don't think its helping as I am so tired, run down and stressed out lately. The OU course is going well and that is a good source of stress and I am so glad I got in now as I would be a complete wreck without it.
I have just read some of what I wrote and have edited it as this was a really depressing post lol and I just need some space to get my head around things. Not sure making it public is the best move either.