I went to my first tutorial yesterday and the 3 hours just flew. It was great to meet everyone and put names to faces as we have studied for around 5 months on a message board together but most of us had never met. There was a tutorial right at the beginning of the course but I and most others didn't make it for various reasons. I didn't feel like the fish out of water I was worried about being and now have more confidence both personally and with the course.
Then yesterday evening I finished up the square that is going to be part of a quilt in memory of Laura from the stitching community. Laura sadly passed away last month and it has been organised by some of her friends as a gift for her family so they can appreciate how well thought of she was. I chose to do the square that Teresa Wentzler adapted for my 30th birthday quilt last year and I stitched it in Laura's favourite purple colurs: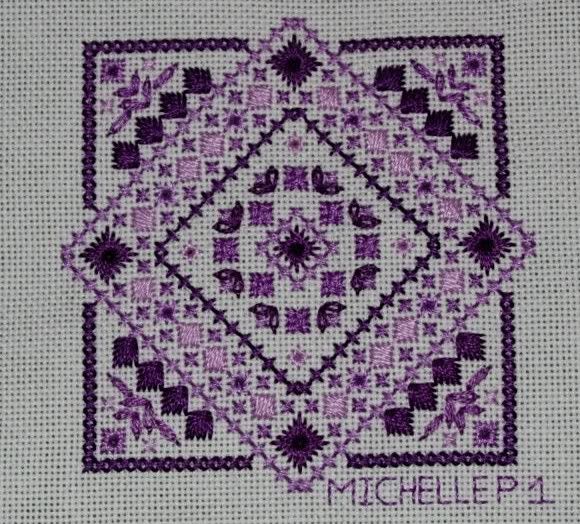 Out of courtesy I emailed Teresa to check it was ok to use and she was honoured to have its conclusion in the project. I felt it was appropriate as its something that defines me and my place in the online stitching community as well as being designed by someone whos board Laura was part of.
Today I am pretty tired after yesterday's busy day but finished up the next piece in my rotation plus a few minutes more to finish a thread lol, and have also completed my studies for the day. So for the rest of the day I plan to chill out and knit, stitch or surf.
This week is looking fairly quiet so far with a short appointment Thursday morning and getting some more study done inbetween.