Phew what a week and it's only Wednesday. Firstly I have a HD of another knitting piece. This time its a scarf for mum which is in Patons Whisper again, but this time is in the Nutmeg colour. Not sure where they got the name from as I thought nutmeg was more orangey/brown than this but its nice anyway and mum is chuffed to bits-good job she chose the colour by look rather than name though: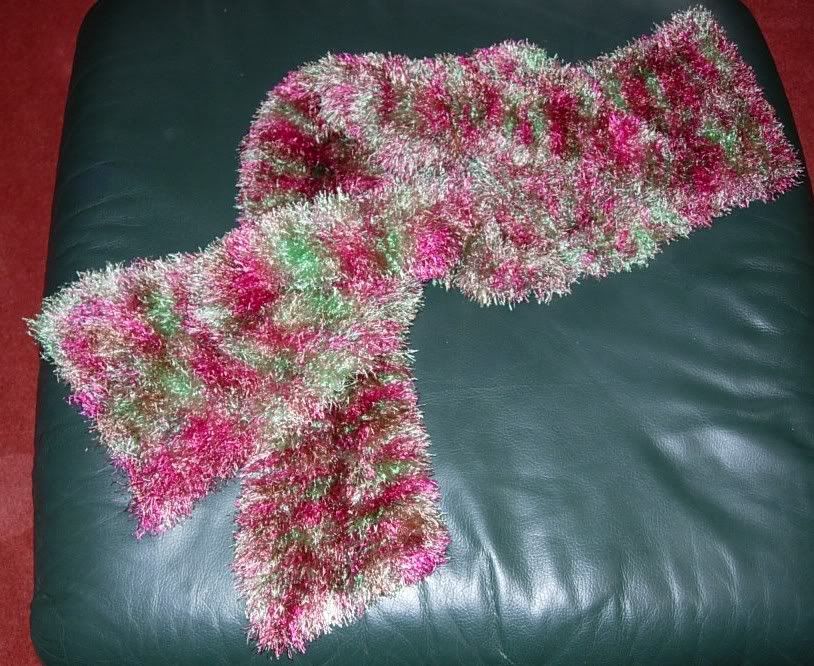 Secondly I am trying to get my 7th assignment in-can you believe we are on number 7 already? Where has the last 6 months gone? Anyway its going well but I am becoming obsessed with tweaking it and its becoming a bit ridiculous. I am not saying anything else, just changing the way I exspress it so maybe I should just read it through and email it. I think this time I am a bit more nervous as this one is 15% of the final grade which is the highest so far as all others have been 10%. What am I going to be like in 4 weeks when the 20% one needs to be put in. Arrghhhh.
Thirdly although I am not going into details here major things are going on with the group and none of its pleasent. I am just so relieved to be out of it, but unfortunately a few people are under more stress now trying to put an impossible situation right.
Right anything else? I think thats it-just seems like a jumble of stuff all happening at once but most of it is good stuff and the bad-well can stand back and just wait and see now.
One more thing I have just remembered is that I have finished Labyrinth by Kate Mosse. It was quite a good book, but in some places I got a bit confused as there were alot of characters spanning different centuries and as I am a slow reader I did get lost at times. Anyway for those who like a mystery with a twist, or archaelogical stories its worth a try. Mum is borrowing it next, but get in contact if you want to borrow it after. I have now started The Da Vinci code and that is promising as I am flying through that and it looks to be different but every bit as good as Angels and Demons.