Yesterday I finished my first proper embroidery piece. This was taken at a Judy Dixon class with my good friend Gina and I am thrilled at how this one came out: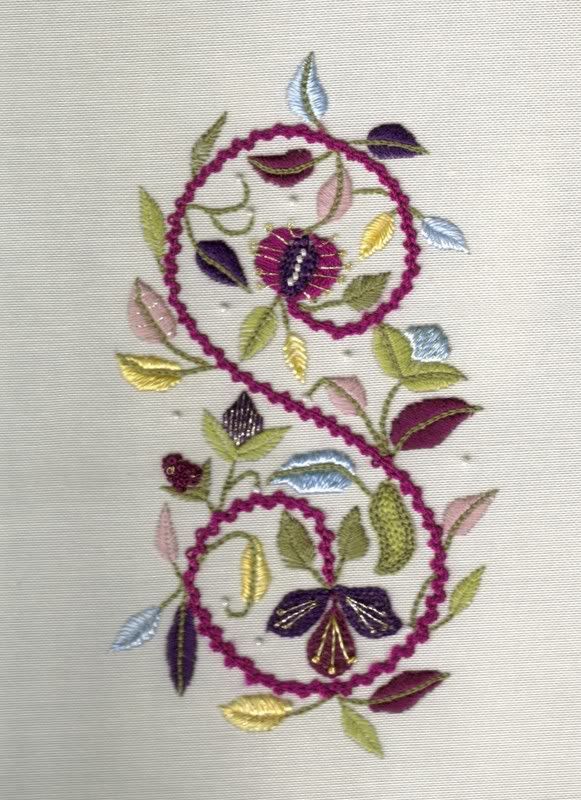 What I particularly love is all the yummy silk flosses and special threads Judy adds to her designs which make them extra sumptuous. This one is designed to be made into a lid for a jewellery box and I am not sure at the moment if I am going to do that yet-I am frightened of ruining it in the process.
As a quick update I will let you know that after much faffing about at the unit my blood results are back and are ok but things need to be looked into a bit more. My inflammation markers are at an ok level, but so far my haemoglobin hasn't shifted so my consultant wants some more detailed tests done. But and this is the thing that annoyed me was that it was decided yesterday but they hadn't made a note in my folder so the blood didn't get taken. And with bank holidays being when my next shifts fall it won't be done for a week-I am trusting he didn't want it urgently but it really ticked me off.
Also I got a letter yesterday informing me to ring the dental hospital to book in for the wisdom tooth removal and after hours and talking to so many people on the phone I got nowhere. Today mum rings the number whilst I dialysed to get in early and got through straight away and got me booked in for next week. What happened when I rang I have no idea but it was really like the twilight zone for a few hours and it drove me crazy.
Anyway it's nearly easter and we have had a phone call that my brother and family are coming to visit on Saturday-I get easter cuddles with my nephew which is a lovely suprise.