Just as Big Brother is drawing to a close I finish the first piece that I have been stitching whilst watching it. It is by Margaret Sherry and is called Home is...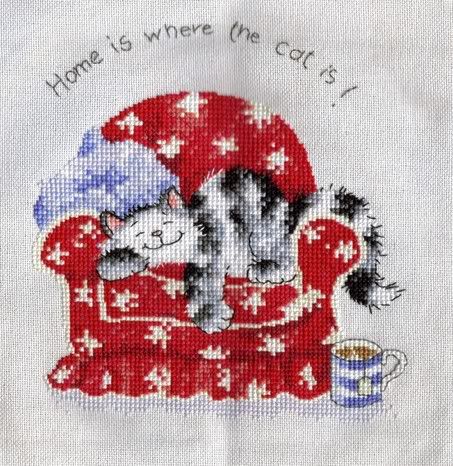 I stitched it on Silkweavers desert sky lugana and left off the whiskers as they didn't show up.
I also started my first pair of socks with the Regia wool I received in the exchange and so far so good, but I have yet to turn the heal lol.
Rotation wise I am still mulling it over and even though I have started another round I may still change it again, but am so far not sure how, so am carrying on as usualy until I stop procrastinating.
Other than that I have been a bit under the weather with a cold and tummy thing so had to cancel the OU celebrations of last night. I do feel better today which is good as we are off to my brothers tomorrow for the day and I wouldn't want to pass anything on.
Thats it for now, off to grab lunch and to stitch the afternoon away.